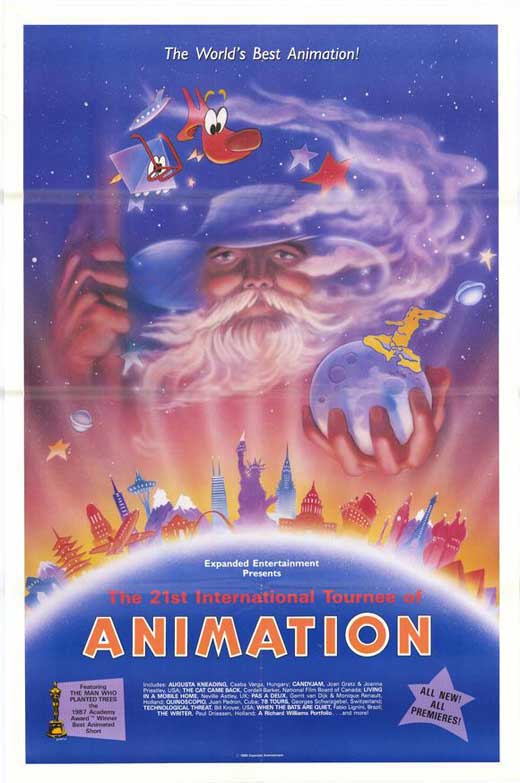 MONDAY, NOVEMBER 11, 7:15 pm
Dolby Labs, 100 Potrero Ave. SF, free
"THE BEST OF THE TOURNEE OF ANIMATION"
For almost 30 years The Tournee of Animation gave American audiences a chance to see outstanding animation from around the world. In 1994 Expanded Entertainment, the final distributor of this important series, assembled a 35mm program of some of the very best films in their library. It includes 5 Oscar winners and prize winners from Annecy, Zagreb, etc. Tonight's show is probably the first time this outstanding program has been seen by an audience since Expanded closed.
THE MAN WHO PLANTED TREES, Frederic Back, Canada, 1987, Oscar winner
SUNBEAM, Paul Vester, UK, 1980
THE FLY, Ferenc Refusz, Hungary, 1980, Oscar winner
THE HUNTER, 1991, Mikhail Aldashin
HAPPY HOUR, 1983, Brett Koth
KILLING OF AN EGG, Paul Driessen, 1977, Netherlands
THE BEDROOM, Maarten Koopman, 1990, Netherlands
BALANCE, Wolfgang and Christoph Lauenstein, 1989, W. Germany, Oscar winner
CREATURE COMFORTS, Nick Park. 1990, UK, Oscar winner
DEADTIME STORIES FOR BIG FOLK (DOOR), David Anderson, 1990, UK
FACE LIKE A FROG, Sally Cruickshank, 1988, USA
THE CAT CAME BACK, Cordell Barker, 1988. Oscar nomination
FINGER WAVE
ODE TO G.I. JOE, Gregory Grant, 1990, USA
TIN TOY, John Lasseter and Bill Reeves, 1988, USA, Oscar winner
CHARADE, Michael Mills, 1984, Canada, Oscar winner
REN & STIMPY IN BIG HOUSE BLUES, John Kricfaluci,1992, USA
And for your added enjoyment we have added the amazing PINK KOMKOMMER a wild sexual romp by Marv Newland, Paul Driessen, Sara Petty, Chris Hinton, Alison Snowden, Craig Bartlett, David Fine, Janet Perlman, Stoian Doukov and others who contributed to this delightful "jam" from 1991.